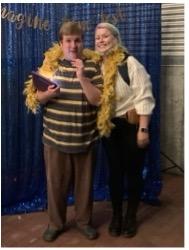 Hello, wonderful Imagine family and community members. I am elated to write this month's client spotlight for my client Scott. Scott is amazing for many reasons, and probably too many to name, but I wanted to open a window, giving you a glimpse into the Life of Scottie.
Scott has endured many hardships over the past year, such as losing a close friend and roommate. In July his home flooded from the upstairs pipes which left his home a soppy mess and temporarily uninhabitable. He temporarily moved in with his neighbor Jake. (Thanks Jake!) 
Scott has been through quite a bit of change and many transitions, which is especially a challenge for him. Coming out of a pandemic that changed all our lives forever, made things that were once a daily routine feel like an impossible task. However, this man has taken this year by the horns and made it a year to remember. Scott has been working hard to rejoin the community, going for walks at pleasure point, and going to Target and other stores.
Then he did an incredible thing. Scott joined us for the Imagine Disability Film Festival and stayed for over an hour! I was working behind the concession stand and I saw him! I abandoned my post in a completely frantic but joyful jog over to him. I do my playful sneak-up, while Scott gives me a playful smile. He humored his mother like a good son and took goofy pictures with her while she used the silly props at the sparkly photo booth. Then his amazing longtime friend and OT jumped in for some photos capturing Scott's captivating smile. The call for the start of the show was made and Scott started following his fellow CHF neighbors into the building curiously walking under the blue, white, and gold balloon arch, down through the darkish long hallway into the theater. Thinking that would be enough to deter him from entering the theater, he made a sharp turn marching up the stairs to find the row and seat that was just right. He took a few breaks away from people and the films, but he was very clear that he wanted to stay. He sat in the audience watching the first few films and brought a flood of cheerful and some teary emotions.

For some it's a simple task to walk into a place with people, knowing that it is customary to be fairly silent in a movie theater. For Scott, his world is full of loud noises, whether he is expressing his joy, anxiety, fear, or uncomfortable happiness. Scott uses his iPad to play videos communicating what he is thinking, feeling, and wanting. He expresses himself with knee slappers, and shoulder slaps. It's a lot to hold in. So much so that when he got in his car, after holding it in, for social acceptance, he let it out! When asking him how he felt, he was so clear that he was so happy. That is why Scott is this month's client spotlight. He continues to impress us even with his recent attendance at the Imagine Halloween Party. He stayed for about an hour and 15 min. He wanted to stay and watch the movie, but he was ready for a calming and regulating car ride with his brother. To Scott, Scott's team, Scott's family, Imagine and the Target employees that say "Hey Scott"! and the whole community… Thank you for the incredible opportunity to witness and be a part of such greatness and rewarding experiences and memories. Way to go, Scottie, we are all so proud of you!                                  
                                       -Submitted by Jessica Ortiz 
Elena is a new staff to my team who has exceeded the expectations of a day staff working with Rae. Having Elena step up and work with a consumer who needed some stability and help in her life has been amazing to see and appreciated by many. Elena is a responsible and warm person with who I have been honored to work alongside.  I hope for a long period of working together for the benefit of Rae.

-Submitted by Yvette Gomez