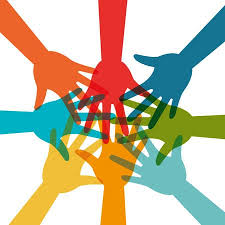 This is a new, probably occasional, column in our newsletter, meant to feature Imagine's role in building a stronger community that is more inclusive of people with developmental disabilities. This is work we embrace in our mission and do a lot of but don't always make people aware of. In as much as we can remember to do so, we want to engage our community in our community and to be good neighbors to our neighbors.
On September 24, Salud Para Gente, the Pajaro Valley Unified School District, and the State Council on Developmental Disabilities sponsored a resource fair for people with special needs at Watsonville High School.
Imagine employees showed up to help demystify adult services and explain SLS and FHA services from the provider, caregiver, and client perspectives.
Norma Villarón, Administrative Assistant, Stephanie Urbina, FHA Facilitator, and Faviola Ramos, Staffing and Recruitment Specialist represented Imagine and talked about what we can offer, the support received by adults in our programs, and also the opportunities we have for care providers. Gia and Santi made sure people understand that we're also adorable.
Service and Advocacy are side by side in our mission and values. If you know of a person, network, or organization that you think needs to know more about who we are, how we participate in the community, what people with I/DD contribute, or how our system functions, write to Norma. At long last, we have extroverts in our Leadership Team and they'll come out on Saturday.