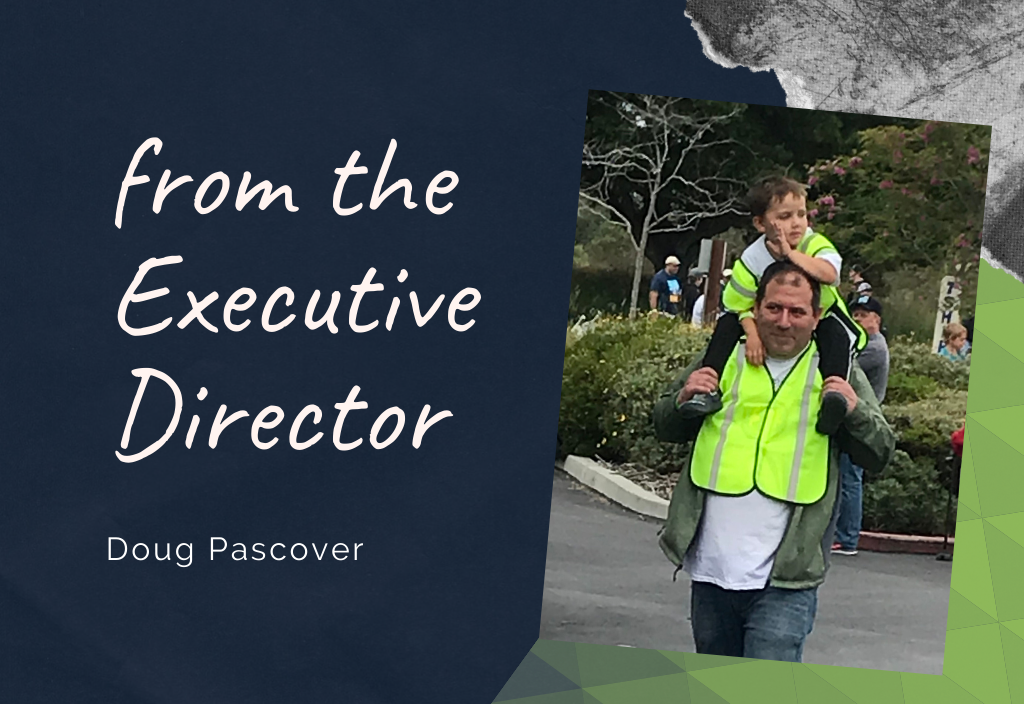 Dear Imagine friends and family,
The Film Festival is back, two Fridays from today, October 14 at the Tannery Arts Center's Colligan Theater. There's more information below but I'd like to talk about what the film festival means.
As Imagine works to help Santa Cruz County become more inclusive, this is the single annual event that best reaches our neighbors with the message that their neighbors with Intellectual and Developmental Disabilities are wonderful to know and to work and share life with.  
During lockdown in 2020, we moved the event to a COVID-safe drive-in format.  Last year, as the world crawled back to something normal-er, the theater was closed and the Boardwalk was open so we had to skip 2021. Finally, though, the theater is open (for vaccinated, masked people.) This will be our tenth annual film festival and it takes place in Imagine's 20th year. We're very excited to have it back.  (See HR Corner below for more information including how to register.)
The more things go back to normal, the more they keep changing.  Ron, one of the longest-tenured connoisseurs of our SLS service moved Friday into his new family home with Angie, Alicia, and their children, supported through Imagine's FHA program.
Pasquale is here now, and I have really enjoyed my few chats with him. If you meet him, welcome and enjoy him. We have two other new clients we are preparing to welcome.
More about one of these clients: because I have a favor to ask: In September we were made aware of a young woman, a member of our community, and served by the Regional Center.  She is currently under 18 and in protective custody of the Department of Family and Children's Services, but she will turn 18 this month and that support will end.
Erika, her Service Coordinator, has really gone to work trying to acquire for this young woman that her needs can be met without support from family.  She has temporary housing available, but only if she brings her own support. Imagine is working with Erika (some of you will have known her when she worked with adults,) and a local ILS agency to provide those supports necessary so that this young woman doesn't begin adulthood homeless.  
As you are all aware, hiring is hard right now and we can't afford to create new vacancies on teams to help.  I reached out to existing staff and also Imagine families in the hope that caregivers might pick up a shift or two or maybe some family members would take a temporary gig. It's gone well enough that we can almost commit.  We think we can cover the afternoons and evening weekdays and that the ILS agency will cover the mornings.  But we still have blocks of time on the weekends that we will need to cover until we can find a permanent person to take those shifts.  If you live in the area and are willing to give up some time on weekend afternoons or evenings to help this young woman until we can find a permanent replacement, please write to me or to Fabi. All of our work makes a difference across the long lives of our clients and communities, but this is a chance to make a profound impact at the start. And, by the way, if you help this young woman and find you have a taste for the work, we'll be glad to keep you hired on.
The Imagine Holiday Party is coming back! December 2 for your calendars. Because food will be served and singing is inevitable, the event is not recommended for people who are worried about COVID and if you feel you can't or shouldn't join us, we will miss you. Let me know, though, and I'll be glad to bring you by a plate and have a holiday visit. We're looking into whether we can live-stream the event for that "Feel like I was there" feeling.
Further down, this month's newsletter includes the following:
Patty Lopez, Imagine's Assistant Director of Human Resources, is also the producer of our Film Festival. She hijacked her own column for the purpose of helping you attend.
In The Service Sector, Charlie answer questions from several family-members for everyone around how we find new caregivers and bring them to our clients.
No Community Connections because Susan Douglass, a parent and board member, is taking a couple of weeks off from her community and connections.
Our usual stuff in the columns around advocacy, self-determination, and the Imagine Endowment.
The Person-Centered Evolution this month concerns the trade-off that sometimes exists between expectations of performance and the benefits of helping staff stick around.  It's a tricky issue that invites a lot of controversies and very little resolution.  But like every issue of care, it also requires a person-centered approach.
This month we have spotlights on Ron and Vanessa.
As ever, if you have any questions, feedback, or concerns, please don't hesitate to get in touch. You can write me here. I look forward to hearing from you.
Gratefully yours,
Doug