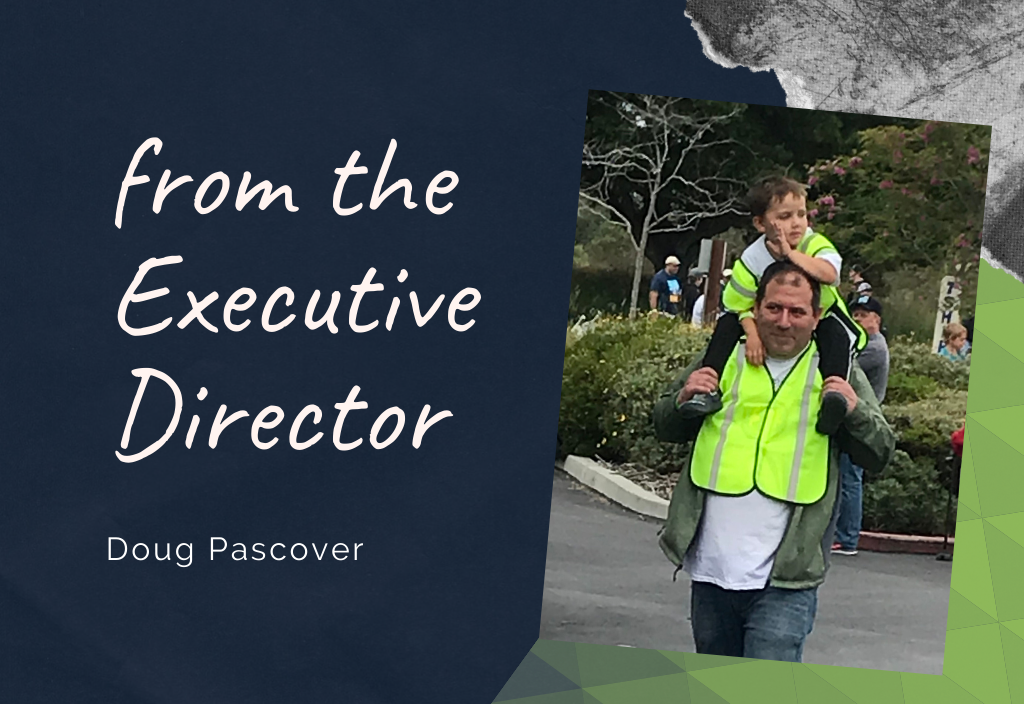 Dear Imagine friends and family,
This will be a pretty eventful newsletter this month. In this column, we hope everyone will note some good news about a new member of the Administrative Team, bad news about some very important flaws in our performance around medications, and a more plaintive than usual kick-off to our holiday fundraising campaign. All of these will be explained below at a newsletter depth of information and I am available, as always, to provide detail to the personal communication level. You can write me here.

Two truths are important for you to know. The first is that Imagine remains as much as ever a resilient, thoughtful, and person-centered organization, staffed with committed individuals who strive to fulfill our mission and serve the individuals we've been graced to have in our care. The second is that right now we are also a very stressed organization. We have been understaffed for a while now against the challenges of administering excellent services during a pandemic. Our direct care team has been short-staffed requiring many of our caregivers to work beyond their preferences and natural energy levels for a long time. Financially, we have spent enough of our reserves during the pandemic that we need to be very prudent. The third issue makes solving the first two especially difficult.

In October, we did identify several cases where our services were not up to our standards. In particular, there have been three cases in which errors around medications or their documentation were allowed to occur. Below in this column, Charlie describes our response. Here, in mine, I want to apologize. Up-to-date verification and documentation of the proper medications are a core responsibility that we acknowledge, train for, and invest in meeting. The acceptable frequency of error is never and those we serve have the right to expect us to stay within a breath of that standard. I am sorry we did not meet that expectation and I promise a keen focus on improvement. If you, someone you serve, or someone you are a conservator for were involved in a medication error, you have already been informed.

Fortunately, I can announce progress in October on both administrative and direct care hiring. The prospect of substantial and adequate relief for our financial concerns, enough to start refilling reserves and make improvements in direct care compensation, is promised in the state budget and expected to bring relief around July. Between now and then you have our commitment to do our best for those we serve, our coworkers, and the rest of our family and community.

As an example of the progress we are making, I'm very grateful to announce that Norma Villarón has joined our family as our new Administrative Assistant. Depending on your role in the Imagine family, Norma will help you as a friendly greeting during regular office hours, less chance that we'll run low on supplies you need, a measurably less grumpy Executive Director and, starting next month, a return of the higher quality newsletter from recent days of yore. At least one board member will be very happy to have minutes kept by staff again, too. Next time you are in the office, please introduce yourself and enjoy your new friend. If Norma had started a week earlier, her photo would be just below this sentence.

I want to remind everyone who works at Imagine that the end of this month is the last day anyone can work at Imagine without (a) having completed COVID-19 vaccination or (b) providing a waiver signed by a medical professional or religious authority and agreeing to weekly testing. If you were fully vaccinated at Imagine clinics or have already provided proof of vaccination, thank you. If not, you have 30 days to comply, or we will not be able to employ you without a waiver and weekly testing.

We are kicking off our Holiday Fundraising Campaign from November through January. For the reasons above, we are hopeful that this year people will support us as they are able and seek support from friends and family who may be interested and in a position to help. Our goal this year is $50,000, about double our best campaign ever. Our purpose is to keep our focus on improving everything that needs to get better and everything that's working wonderfully for the 8 months between now and when we expect sustaining improvements in our regional center funding. Our letters will go out this week, with email and a web page to follow during November. If you prefer, you can get ahead of the wooing and just elope.

Further down, this month's newsletter includes the following:
The latest edition of "The Service Sector," in which Charlie discusses steps we are taking to ensure we live up to our standards in medical information and documentation.

In our Human Resources column this month, Patty wants you to relax, take a deep breath and, if you feel like doing yourself even more good, consider a flu shot. She'll give one of you money if you do.

Susan Douglass, a parent and board member, in her monthly column invites you to a zoom meeting on November 16th to be edified even more by me. She also promotes our fundraiser more effectively than I ever do.

Our usual stuff in the columns around advocacy, self-determination, transparency, and the Imagine Endowment.
As ever, if you have any questions, feedback, or concerns, please don't hesitate to get in touch. You can write me here. I look forward to hearing from you.

Gratefully yours,
Doug