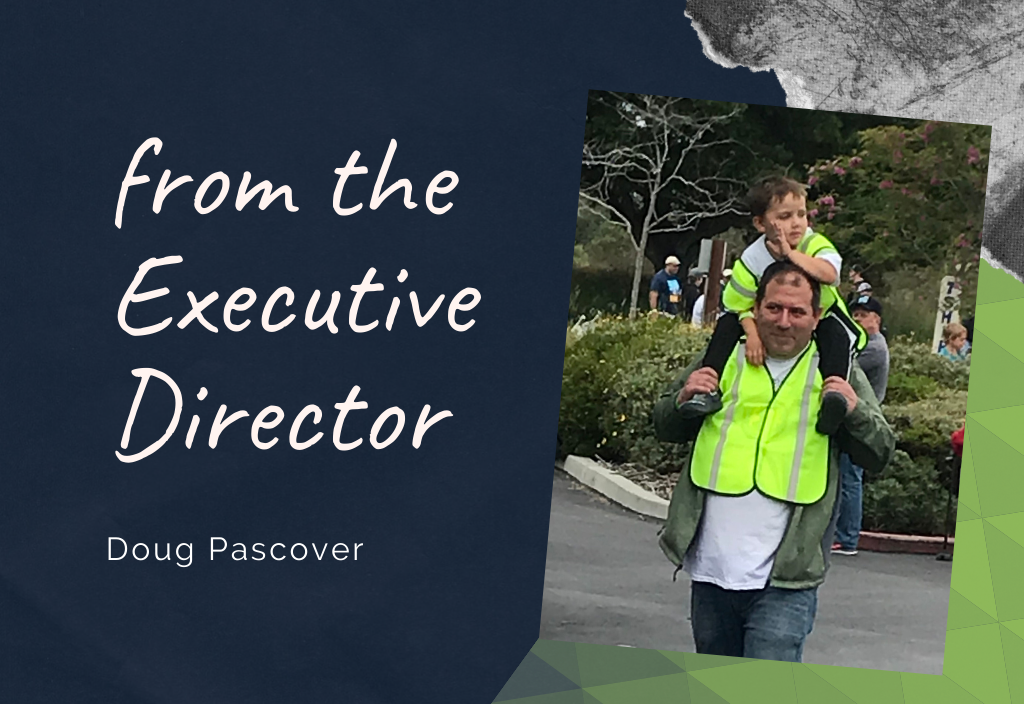 Dear Imagine friends and family,
First of all, I want to welcome Alan and his family. If you attended the Holiday Party, you might have met Alan. If you did, I bet he made you laugh as he does me. If you did not, Alan is fun, affectionate, outgoing, and smiles more than he speaks. He is one of the people we've been looking forward to working with since before the pandemic, and we really look forward to him joining us. His parents, John and Soyoung, are also very nice, and he has a brother who lives in Wisconsin. They are joining the community at Coastal Havens Family next to Common Roots Farm. If you meet them, please welcome them. But hurry, or Alan will welcome you first.
On March 1, we plan to change our rates of pay for caregivers. The new system will work like this. People doing direct care in our SLS program will have new titles based on how long they have been caregivers at Imagine. Each title comes with rates for awake work and rates for sleep shifts.
Caregivers who have spent less than three years with Imagine will be considered Home Support Specialist Level 1 (HSS I) and receive $17/hour for awake shifts and $15.50 for sleep shifts. Those who have been with Imagine for three full years as of March 1 will be considered HSS II and receive $18.15/hour for awake shifts and $17 for sleep. Those with eight years with Imagine or more will be considered HSS III and receive $20/hour for awake shifts and $18.15 for sleep. Lead staff will receive $2/hour on top of their tenure level, and awake overnight shifts will also receive an additional $2/hour on top of their awake rate. For the person who asked at the holiday party and anyone else interested, for those who have worked at Imagine, left, and come back, we will consider the total time working at Imagine rather than just the most recent tour.
Honestly, the day I am content with caregiver pay, I will no longer deserve my job. But it is exciting to see these changes. Those who were caregivers when I arrived 9 years ago will have seen their incomes from Imagine more than double, along with better benefits. New people coming to work will be earning two-thirds more than they would have when I arrived. The board and management of Imagine are committed to continuing on this path and prioritizing caregiver compensation. We know this is not somewhere to stop, but we're really grateful to be in the position to honor those caregivers who provide stability for our clients and know them the best, who can mentor our new caregivers, and who so often provide compelling feedback to Facilitators, administrators, and executives.
The Question for Caregivers: As mentioned last month, I would like to start having quarterly "Ask Us Anything" Zoom sessions to improve communication between management and caregivers. The trouble is that Imagine has employees working around the clock and some of us have families, and most of the rest have interests. So my question: When is a good date and time to begin these? Please write with your answer.
With regard to the future Assistant Director of Services, We still have two very promising candidates. We hope to do second interviews in the second week of February with a panel that will include two each of clients, caregivers, and family members. I remain hopeful that the new Assistant Director of Services will begin in March.
I am hopeful that we will have a new Director of Services sometime in Marchish.
Further down, this month's newsletter includes the following:.
Patty Lopez, Imagine's Assistant Director of Human Resources, talks about the importance of reaching out with concerns so that we can help.
In The Service Sector, I continue to channel Charlie from beyond. This month's topic is, again, Facilitator Support Planning.
In Community Connections, parent and board member Susan Douglass offers a symposium on self-determination and has arranged a special guest expert to attend from clear over in Aptos.
Our annual Holiday Fundraising Campaign wrapped about right about on target…
Our usual stuff in the columns around advocacy, self-determination, the Imagine Endowment, and Transparency.
The Person-Centered Evolution this month describes the "Four Plus One Questions" tool.
This month we have spotlights on Ian and Alina.
As ever, if you have any questions, feedback, or concerns, please don't hesitate to get in touch. You can write me here. I look forward to hearing from you.
Gratefully yours,
Doug