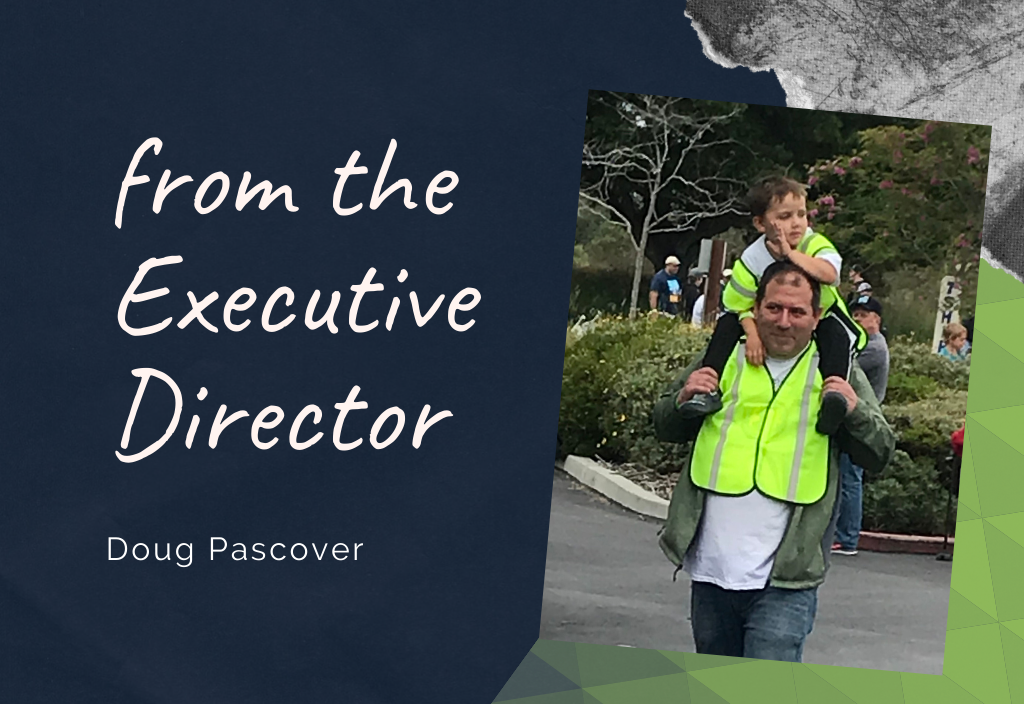 Dear Imagine friends and family,
Our effort to hire a new Director of Services did not pan out. Although we had two excellent finalists, we were not able to hire someone we felt confident was right for the moment we are in. Rather than start the arduous process over (and invite more floods and storms to the area,), our Assistant Director for H.R. led the development of a restructuring plan that we can experiment with as a way of improving our performance without a Director of Services. She, Heather, and Stephanie presented it to me, and I think it might work, so we're going to try. In the name of transparency, I'm going to tell you all about it.
The above paragraph was context for this apology: this month's newsletter will be longer and more narcissistic than most. If management structure sounds like the dullest thing in the world and if you are already tired of my long sentences, skip down at least to Patty's H.R. Corner.
To give a good explanation, I want to describe our sense of our current situation, the changes we have been trying to make, and how we propose to do that without a Director of Services, including who will be in charge of what. I'll be more specific about support for Facilitators in the Service Sector column below.
Current situation:
As the management sees things, there are three related challenges that Imagine should improve urgently:
We need to do better at building our teams to provide person-centered services for our clients.
As we have prioritized direct care wages, management resources, especially facilitator time and attention, are stretched thin.
Post-COVID, people are harder to find and less able to show up for all of their shifts.
I still believe, and most of the management at Imagine still believes, that our services will be much better, more reliable, and less crisis-prone, as our culture fosters thinking, preventing and planning for the future and good communication in the present. Our hope for the last and next Director of Services has been that they push and pull us in that direction. Now our hope is that the existing team can move together in that direction.
…Facilitators are key…
Facilitators are key. They are the people charged with keeping senior management aware of the needs of every individual we serve so that the agency's guiding vision stays focused on everyone's needs. And they do the work to bring Imagine's culture into the teams that surround the individuals we serve. They are often, and best, the closest partners for our client's families. Their communication and attention can and should help the teams and families work better together.
One of the most common phrases I hear is, "My Facilitator is too busy to…" It's the Imagine version of an Iowa farmer's "suppose it might rain." But the things that keep Facilitators so busy are a combination of factors outside our control, preventable problems, and circumstances we can influence in order of increasing frequency and impact. Good structure, standards, practices, and support can free up a lot of the Facilitators' bandwidth for the work that helps our clients thrive, and our colleagues enjoy their work. What we'd have asked the next Director of services to do and what we are now planning is meant to help our Facilitators spend more time supporting their teams to focus on their clients and less time filling holes in the calendar or responding to crises.
No one of us can do it, but all of us can…
When Charlie left, I took over as interim Director of Services, which I was grateful to do because I got to work more closely with the Facilitators, get a better sense of the agency's operations, and through all that contact, got a lot smarter (if not all the way to smart.).
I've had a lot of support too. We created a new but temporary lead facilitator position which Stephanie Urbina filled, who took over some of the accountability and crisis management duties. Patty took on new responsibilities, and the Facilitators put up generously with my new neediness, meeting one on one with me every other week.
But as we found it necessary to replace two Facilitators and as I accepted an interim Facilitator position, it was pretty obvious that Doug-powered traction is stubborn but not quick enough. We needed a Director of services, or…
The experiment:
On a temporary basis, unless it works, we are redefining five roles in the agency in order to better move the agency forward:
As Executive Director, I will continue to do the key components of the position I was hired for and be the immediate supervisor for the Facilitators, including assisting with coverage needs that can't be met another way.
Assistant Director, HR: Patty Lopez will continue her current role but also directly supervise the Administrative Assistant and Recruiting Coordinator (who currently report to me.) I have also delegated to her responsibility for the training and continuing education budgets. Her title will remain the same. She will also track the recruiting process to ensure that applicants are responded to quickly and solicitously.
Lead Facilitator: Stephanie Urbina will continue to supervise her caseload as Facilitator and, in addition, will be responsible for managing our emergency response and coverage as well as audit teams to make sure person-centered thinking tools are being used actively on each team. She will also co-author the Service Sector column in this here newsletter after this month.
Book-keeper: Heather Miller will take on the new title of Operations Manager, and will continue to do our financial record-keeping. The new responsibilities include auditing the client files to insure that Facilitators are up-to-date with house meetings, following training protocols with teams, gathering and collecting important documentation including budgets and Medical Assistance Records (MARs.) Where Facilitators are or fall behind, she will help them make plans to catch up.
Recruitment Coordinator: Faviola Ramos, will continue to do our recruiting and follow-up with applicants and prospective applicants. She will also be transitioning to Staffing Coordinator a position support Facilitators with technicalities around our electronic clock-in system. Over the course of the year, we plan to develop her role so it will come to include a significant role in our training. We intend Fabi to become a certified trainer in several key skills so that we can more easily and frequently support our staff training needs.
In this month's Service Sector, below, I'll give more detail (I hear you begging) about how these new positions will better support our Facilitators to support their clients, staff and other stakeholders.
This is an experiment and if it does not seem to be working, we will re-open our search for an Assistant Director of Services. Our hope is to continue with the plan above through the end of the year.
Further down, this month's newsletter includes the following:.
Patty Lopez, Imagine's Assistant Director of Human Resources talks about training opportunities for our employees and the support Imagine can provide.
In The Service Sector, this month's topic is even more detail about our restructuring plans. You're welcome.
In Community Connections, Susan invites you to a zoom about two-room section 8 vouchers. Get out your topcoat and tails..
Our usual stuff in the columns around advocacy, self-determination, the Imagine Endowment and Transparency.
The Person-Centered Evolution this month talks about choice and scarcity.
This month we have spotlights on Dafne and Garrett.
As ever, if you have any questions, feedback or concerns, please don't hesitate to get in touch. You can write me here. I look forward to hearing from you.
Gratefully yours,
Doug