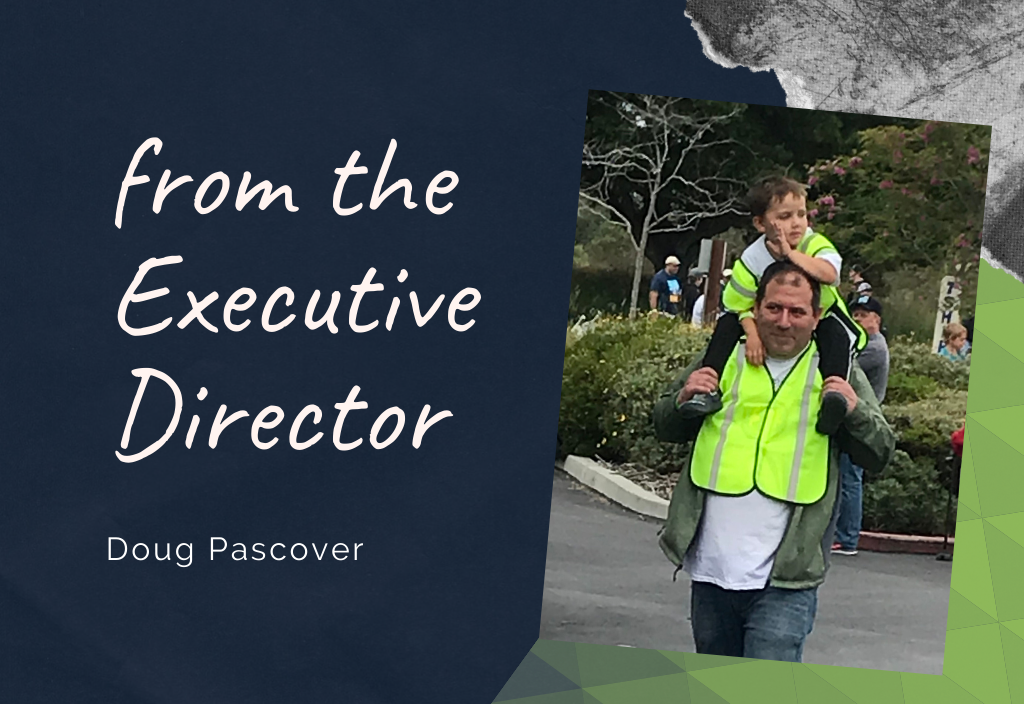 Dear Imagine friends and family,

Welcome to 2020 and, have mercy, I've seen some decades by now. I resolve to use fewer words.

The holiday party was magnificent as it always is. There are pictures down the left hand column. It's the sense of warmth in community that makes the event great, unless it's my annual 40-second speech, It's probably the speech. Thank you to all who came and made the event such a lively one. To those of you who did not attend, we hope to see you there next year.

For family-members of people we serve, there will be a pot-luck get together on January 9. If you'd like to attend, RSVP to Lili and she'll get you directions. Once again, Janine and Henry will be hosting, The purpose of these events, which we mean to do every six months or so, is to build community through candid conversation between our families and the Executive Team. If you have a topic that you'd like Julie or me to prepare to talk in detail about, you can add that topic to your RSVP. Former Sheriff and President (of Imagine) Mark Tracy will give a short presentation on the Development of an endowment to support Imagine in the future.

The January newsletter always seems like a spot to discuss what plans we have for 2020. Our central plan for every year, of course, is to be engaged and ready victims of circumstance. Apart from that, we expect our Family Home Agency (FHA) program to grow. It will not grow much before we will add a second Facilitator to the FHA team. FHA is a very scalable program with regard to both quality and sustainability and we really haven't planned for constraints on its growth. Unusually, there are open places available in FHA which is why we do expect growth.

Supported Living Services (SLS) are less scalable with regard to maintaining quality and come with some built-in financial risk, especially around the cost of housing and the need to pay staff better. When our friends at Coastal Havens finish the construction of homes in the second half of the year, we expect to add one caseload to SLS. We mean for this expansion to be the last in our SLS program.

With regard to other programs and activities, we foresee ourselves maintaining our current scope. There plan another Film Festival in or around the first week of October, another Gathering of Extraordinary People in August, supporting Shared Adventures' Day on the Beach in June and continuing effort to improve the culture of service particularly with regard to person-centered tools and approaches.

We hope to improve the diversity of our board and leadership team this year. Imagine wants to do better at promoting from within. To do so, members of the leadership team will be available to mentor caregivers on the jobs of facilitators, administrators and other managers.
With regard to advocacy, the executive contribution will focus on reforming the regional center system through two workgroups reporting to a system improvement Task Force created by the legislature and managed by the Health and Human Services Agency.

And there you go, a summary of our next Annual Report. A final expectation we can include in our look ahead is that there will be an annual report this year. The last one was shelved in favor of a two-year version due to a very late audit but this year's audit is well underway and we hope to get the two-year annuals report out in February.

Patty has returned part time and should be writing the next newsletter's Human Resources Column. This month, we're using to announce a new program which will help caregivers prepare for new positions.

Our annual fundraiser is going very well and we're grateful. The generosity of our community allows Imagine to do its work with a generous, service-minded spirit much different from the imprisonment by the bottom-line that less fortunate agencies have to develop. We appreciate you.
Our holiday campaign is off to a great start. Imagine makes every effort to achieve excellence within our regular funding. Most of those we serve will need our support throughout their lives and those lives will last a long time and with that perspective, all of our careful stewardship and long-term planning can feel brittle. The generosity of our community gives us the resilience we need and that the people we serve need us to maintain.
Gratefully yours,
Doug